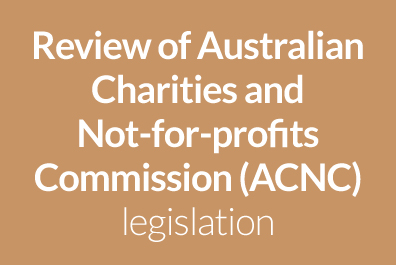 31 January 2018
The Statutory review of ACNC – Here's why we should all have a say
It's hard to believe, but it's been five years since the Australian Charities and Not-for-profits Commission (ACNC) Act was passed by Parliament.
The ACNC came off the back of many years of discussion about the best ways to support and regulate the sector that provides assistance, and hope to millions of Australians and those overseas.
Charities not only help millions of people but there are over 2.9 million volunteers working in them, and 1.3 million people are employed by them.
No matter where you are, in someway you are connected to a charity.
The sector is also a major part of our economy, although this is not why they exist, they have a combined revenue of $142.8 billion or some 8% of GDP.
So having a say about the future of a sector that you or someone you know, works in, volunteers in, or is assisted by, is vital.
Just to assure you though, it's not unusual to have a statutory review, in fact it's good practice, and can help us get an even better outcome.
So here are just a few things the ACNC has given us.
Recognition of the importance and impact of the sector.
Ready access to information on the sector such as the statistics above which are from the 2016 Australian Charities report.
A single portal for researching charities and NFP's for donors, supporters and clients making it easy to understand what a charity does, if its registered and how to get in contact.
A body of research and materials on Governance, best practice, obligations and the impact of the sector.
A place to take complaints about unethical behaviour, and to have action taken – thus giving confidence in the sector.
A way to ensure that the sector is complying with the law without navigating multiple departments.
A voice in Government.
A professional regulator and adviser.
These are just some of the things the team at the ACNC has given us.
But this review is wider than that, it includes;
a review of the commissioners power – Powers that include the ability to revoke charity status.
A possible extension to other NFP's that currently are not required to be registered – perhaps even informal groupings that co-ordinate actions?
The amount of reporting that charities face and the methods of that – how do we balance transparency with regulatory burden?
Penalty clauses – currently the commission acts on a confidential basis, what if these were public?
Review of financial reporting – could this have impacts on access to tax deductions?
The types of works engaged in by charities – what does this mean for advocacy and foreign aid?
The deadline for submissions is short – the 28th of February in fact, but the implications for anyone working in the sector could be long lasting.
kbwest advisory is working with a number of leading agencies to ensure that their voice is heard in this review.
Please take the time to make sure one of them is yours. Download the terms of reference here and have a say.
We all want a more effective sector, part of that starts here.